Ross Noble
HIGNFY stats
Appearance type:
Panellist, Team Captain
Appearances:
S45E5, S43E8, S42E3, S41E4, S40E10, S39E8, S38E4, S34E1, S32E4, S30E3, S28E2, S26E4, S24E3, S24E2, S23E8
Broader curriculum vitae
Profession:
Actor, Comedian
Ross Noble (born 5 June 1976) is an English stand-up comedian and actor from Cramlington, Northumberland.
Noble rose to mainstream popularity through making appearances on British television, particularly interviews and on celebrity quiz shows such as Have I Got News for You. He has also released DVDs of several of his tours.
Appearances
Edit
External links
Edit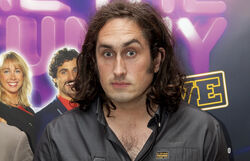 Ad blocker interference detected!
Wikia is a free-to-use site that makes money from advertising. We have a modified experience for viewers using ad blockers

Wikia is not accessible if you've made further modifications. Remove the custom ad blocker rule(s) and the page will load as expected.