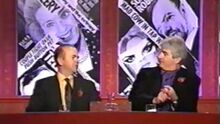 Dermot John Morgan (born 31st March 1952 - 28th February 1998) was a Irish comedian, actor and previously a school teacher, who achieved international renown for his role as Father Ted Crilly in the Channel 4 sitcom Father Ted, after a day recording the last episode of Father Ted, Morgan had a heart attack while hosting a dinner party at his home in south-west London. He was rushed to hospital but died soon afterwards.
Appearances
Edit
Series 14 Episode 3, Ian's team
Series 11 Episode 2, Ian's team
Ad blocker interference detected!
Wikia is a free-to-use site that makes money from advertising. We have a modified experience for viewers using ad blockers

Wikia is not accessible if you've made further modifications. Remove the custom ad blocker rule(s) and the page will load as expected.