Alexander Armstrong
HIGNFY stats
Appearance type:
Host
Appearances:
S46E6, S45E8, S44E3, S43E5, S42E2, S41E4, S40E10, S39E2, S38E6, S37E5, S36E10, S36E2, S35E7, S34E2, S33E7, S32E4, S31E5, S30E5, S29E2
Broader curriculum vitae
Profession:
Actor, Comedian, Presenter
Known for:
The Sarah Jane Adventures, Danger Mouse (2015), Pointless
Alexander Armstrong (born 2 March 1970) is a British comedian and actor. He has both appeared on and hosted the show more than any other guest.
Early life
Edit
Armstrong studied at Durham School and Trinity College, Cambridge, where he was a member of the college choir. In 1992, while at Cambridge, he met Ben Miller, where both were in the Cambridge Footlights, and they formed the comedy duo Armstrong and Miller. Armstrong decided not to pursue a career as a professional bass singer, and developed a career in acting.
Early career
Edit
Armstrong has performed in several comedy roles. He co-starred in four series of Armstrong and Miller from 1997 to 2001. Armstrong renewed his partnership with Ben Miller for The Armstrong and Miller Show in 2007.
He starred as a misanthropic, animal-hating vet in the sitcom Beast. He is also the star of a series of TV commercials for Pimm's.
In 1999 he starred as Prince Charming in ITV's Christmas pantomime. He starred alongside his friend Ben Miller, and with Samantha Janus, Paul Merton, Harry Hill, Frank Skinner and Ronnie Corbett.
On BBC Radio 4, he plays the part of John Weak in the office sitcom Weak at the Top by Guy Browning.
As a television presenter
Edit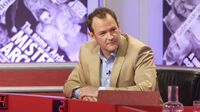 Armstrong is chairman of the comedy panel show Best of the Worst that also features team captains David Mitchell and Johnny Vaughan. The first show aired on 1 September 2006 on Channel 4 in the UK.
He presents the ITV1 comedy quiz series Don't Call Me Stupid, in which mismatched celebrities teach each other a subject they are passionate about, before each facing a studio quiz on their new topic. The series features pairings including Brian Sewell with Phil Tufnell, George Galloway with Lady Victoria Hervey, James Whitaker with Bez, Germaine Greer with Shane Lynch, and Michael Howard with Wayne Sleep.
He is a frequent guest host on the BBC's satirical panel game Have I Got News For You , having appeared 21 times.
He is also the presenter of the TV quiz Pointless.
Other work
Edit
Armstrong co-starred with Caroline Quentin on all three series of ITV1 drama Life Begins.
He appeared in Steve Coogan's Saxondale (Series 1 Episode 2) in 2006, as a famous TV motoring presenter (played like Jeremy Clarkson). Armstrong also appeared as David Cameron in the satirical fictional documentary The Trial of Tony Blair and as a sex-addicted guest in Hotel Babylon in 2007. He voiced Mr Smith, an alien computer, in The Sarah Jane Adventures.
In 2006 (repeated in 2007) he was a guest on Private Passions, the weekly music discussion programme hosted by Michael Berkeley on BBC Radio 3.
He was one of the celebrity contestants on the ITV1 singing show Your Face Sounds Familiar.
Appearances
Edit
External links
Edit